Anbe Sivam (2003) Song Lyrics
அன்பே சிவம் (2003) பாடல் வரிகள்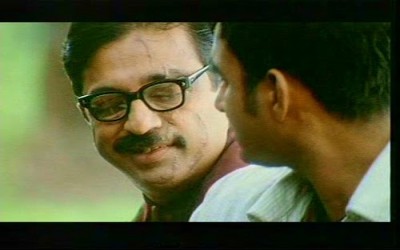 Movie Name

Anbe Sivam (2003)

Movie Name (in Tamil)

அன்பே சிவம்

Starring

Kamal Haasan, R. Madhavan, Kiran Rathod

Music

Vidyasagar

Year

15 January 2003
The film begins with ad filmmaker Anbarasu (R. Madhavan), who prefers the much-abbreviated A. Aras rather than his full name, arriving at the Bhubaneswar Airport in Odisha, India. He is about to board a flight back to Chennai for his wedding. However, he learns at the airport that his flight has been cancelled. While waiting for further announcements, Aras watches the television news about a terrorist threat at an airport in Mumbai. Remarking to himself that the country is going to the dogs, he looks around and sees a bespectacled man with scars taking out something rolled up in a newspaper from his bag. Pictures of a pipe bomb shown among the items seized by the Mumbai police flash through his mind. He informs the authorities, only to learn that the man was simply taking out a cucumber.

The man, who is physically challenged, is Nallasivam (Kamal Haasan). Nalla introduces himself to Aras, and they get to know each other. However, Aras underestimates Nalla, ignoring his sage advice and friendly overtures, resulting in some comical events in the airport. Then, announcements are made that all flights have been canceled due to the inclement weather and Aras realizes he needs a room in a nearby hotel for the night. He is informed, much to his consternation, that the five-star hotel where he was staying before is now fully booked, leaving him optionless. Nallasivam helps him find a place in a two-star hotel nearby, where Nalla and Aras are forced to share the same room. Aras' resentment of Nalla makes him act selfishly in trying to get rid of Nalla; at every juncture, Nalla does him a favor which leaves Aras with a guilt-ridden heart. The next morning, Aras takes a taxi without waking Nalla to find his own way to Chennai. Aras realizes that the floods have blocked most of the roads and even the train station is flooded. He gets mugged by a man at the station who offers to help him with his luggage but instead steals all his money. Nalla comes to the station and helps Aras regain the wallet, sans the money. It is then revealed that Nalla is a trade unionist and is traveling with a cheque worth Rs. 3 million to be delivered to some people after fighting a court case for union workers. The comical situations continue as the pair make it to another railway station in a bus. While awaiting their train, Nalla begins to tell Aras his story, but a tired Aras falls asleep and later walks away halfway through the story.

The film then flashes back to a few years in the past when a perfectly good-looking Nalla performs in street theatres protesting against the industrialization process which is marginalizing the labor force. He often gets into trouble due to this. Nalla is also a very talented painter. He is fighting mainly against the town's biggest business tycoon, the manipulative Kandasamy Padayachi (Nassar), whom he satirically imitates in many of his shows. However, an interesting turn of events sees Nalla and Kandasamy's daughter Bala (Kiran Rathod) fall in love with each other. Realizing Kandasamy's power would be too much to bear if they want to get together, Nalla and Bala decide to elope. While Nalla is on a bus on his way to meet Bala, the bus is in a terrible accident on a hillside which leaves him badly injured. Despite surgery, he is left partially paralyzed and badly scarred. Kandasamy informs his daughter Bala that Nalla is dead. It is also at this time that Nalla becomes a firm believer in kindness and love and, while suffering from an inferiority complex due to his scarred and paralyzed body, nevertheless engages with renewed fervour in performing community service and social work while continuing to fight for union causes.

The film then returns to the present, as Aras and Nalla prepare to board the train they have been waiting for. But as the train arrives, they get into an argument about communism, Karl Marx, and so on. Nalla accuses Aras of being an agent for the West and of being manipulated, while Aras defends himself and criticises communism as a whole, concluding that the Soviet Union doesn't exist anymore. Nalla argues that the idea of communism wouldn't die because the Soviet Union has broken up, just as people wouldn't stop loving if the Taj Mahal got destroyed. The argument turns heated, causing a short-tempered Aras to punch Nalla. After initially looking calm, Nalla punches Aras back even harder, causing Aras to bleed. Pretending to cool down and make up, Aras deceives Nalla into getting some bottled water for him and locks the train door, leaving Nalla stranded as the train leaves without him.

On the train, Aras meets a well-dressed corporate-type individual, Uthaman (Yugi Sethu), who seems to share the same interests as Aras. Uthaman asks Aras to throw away a pack of biscuits Nalla gave to Aras due to the risk of it being doctored and offers him whiskey. When Aras wakes up the next day, he learns from the conductor that he has been conned and that his fellow passenger man was a thief who stole all of his belongings. The train comes to a halt because a previous train has had an accident and it has to be cleared up first. There, Aras witnesses a slew of dead bodies and suffering people, causing him to suffer emotionally. To his surprise, he meets Nalla again at the treatment camp nearby. He apologizes to Nalla, who forgives him. Nalla proposes that he donate blood to a dying boy in need of AB blood, while Aras mentions that he is bloodsick. Nalla convinces him, and Aras donates. Aras also retrieves his belongings as he finds that the thief is around the camp. Nalla proposes that Aras travel with him in an ambulance which will be carrying the injured boy on its way to Chennai.

While on the journey the boy passes away causing Aras to cry. He calls God 'unjust' for giving the boy hope in the form of Aras' blood and then taking away his life. Nalla, who is an atheist, tells Aras that Aras himself is God, that the sadness he feels and the tears he sheds for the boy makes him God. Aras comes to terms with using his full name Anbarasu, a name he previously despised because he apparently doesn't like 'anbu' (love). On reaching Chennai, they go their separate ways, but Aras realizes that Nalla's union cheque is still with him and returns to the address Nalla had given him.

He realizes that Nalla had lied to him previously when he said that he had a wife and a son named 'Sangu'. The address is a place where injured labourers from Odisha camp while waiting for their legal funds (the money fought for and being brought to them by Nalla) and that 'Sangu' is the name of Nalla's dog, which incidentally had caused Nalla's accident. After giving the cheque to the office, he goes to the nearby shop to meet Nalla and scolds him for not telling him the truth. He asks Nalla to come with him for his marriage, but Nalla says he will 'come later'. In an emotional moment, Aras recounts the story of how his brother died from a freak accident when he was young (a story he had told Nalla before). He says that Nalla is his new-found brother and should stay with him as long as life permits. A clearly emotional Nalla accepts the invitation.

At the marriage, Nalla realizes that the girl Aras is about to marry is Bala. He takes this opportunity to appear in front of Kandasamy and threaten that he will stay on and make Bala realize what a cheat her father is unless Kandasamy signs all related documents for pay increment and bonuses for his company's labourers. Sacrificing himself for the workers, Nalla leaves after Kandasamy signs, leaving behind a letter for his 'brother' that he has missions to complete in this world, and that he'd rather travel as a free bird than be caged and tied to one place. He thanks Aras for the love and affection he has shown. Kandasamy meanwhile orders his assistant (Santhana Bharathi) to kill Nalla. As Nalla walks away, the assistant approaches him from behind. Hearing Sangu bark, Nalla turns around and sees his would-be assailant with a sickle in his hand. Requesting him not to hurt Sangu, who is barking and growling, he tells the assistant that he cannot fight like he used to and is ready to accept death. The assistant drops his weapon, weeps, and apologizes to Nalla. He tells Nalla that because he did all the dirty work for his boss, God has punished him by taking away his beloved daughter. He tells Nalla that he has read Nalla's letter to Aras. He also states that he has sinned much and doesn't want to commit any more sins on behalf of his boss. He asks Nalla to leave and that God will protect Nalla. Nalla refutes, saying that the assistant himself is God. He says that there is no greater God than the person who comes with the intent to kill but instead apologizes to the person he aimed to kill.

The film ends with Nalla walking away in the monsoon rains with his dog, Sangu.